Diesels at work
01-22-2010, 07:13 AM
---
Yeah its a 40' deck with 8' dovetail. The buddy i bought it from had them custom make it. they said it was the longest trailer they have made for a gooseneck. overall length from hitch to tail is 53' It takes a little getting used to when pulling but for my equipment it is perfect.
01-31-2010, 12:39 PM
---
Hell I use my truck for pullen implements all the time. I used to have some old horse drawn chisel plows and cultivators that I used the truck with to work the pastures down. Air conditioning was nice and as long as the turn weren't to sharp I never had to raise the blades. 4 low 1st gear was just the right speed to idle along. I still use my truck to pull the manure spreader, this way I can use the loader on the tractor to fill it and the truck to spread it and I never have to unhitch it.

I've got a gooseneck I use that measure's out 46 foot total length hitch to bumper that been a project in the makin for a few years now. I been usin it as i build it but someday I need to finish it. Damn Tornado took out my shop a few years back and kinda put a crimp in things.
01-31-2010, 01:21 PM
---
This is what we use to haul beef from the butchering plant to the processing plant. My dad an I built the box on a 18ft goose neck and fabbed all the railing inside.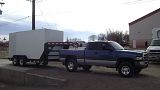 This is the inside rail system we just tie a pig tail to the trailer and then either building whether we are loading or unloading and the beef just roll along by rail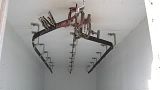 02-09-2010, 11:22 PM
---
Yes they were. That was some left overs from a barn we were cleanin out that was gettin sold.
02-16-2010, 12:45 AM
---
I oughta get a picture of some of the "chewing tobacco" roundbales we loaded into dumptrucks for people. Milo stubble gets pretty nasty after 6 years
02-16-2010, 12:51 AM
---
You just bring up a few bales of that chew. You'd save me a butt load a money. Wish I could find some just straight tobacco to chew. Everything we buy in the shops is all this flavored crap.

This was just old grass bales in that pic that we just moved last month. In a barn they stay good for feed but they sure do loosen in the twine. Now the old Alfalfa that's another thing. That stuff turns brown and get's all gooey like caramel. Cattle eat it up when it's like that but it's some nasty stuff to move around.
02-16-2010, 11:09 AM
---
That reminds me of the hay shortage 3 years ago... We bought silage from a dairy that had been closed for almost 10 years. We owned no dump trailers at the time, so we loaded it into a grain hopper trailer. Guess who got to climb up top and poke it with a stick every time, to make it unload?