How to ruin a perfectly good muscle car
11-26-2018, 03:19 AM
How to ruin a perfectly good muscle car
---
I feel like I should apologize up front for what I'm about to do... but you can't talk me out of it. Every muscle-car guy out there is gonna hate me pretty soon.
But I can at least explain why I'm doing this:
These days I have a fairly long commute. 35 miles each way, most of it at 80 mph. My car gets reasonable gas mileage, but it does add up. My daily driver costs almost nothing in terms of purchase price and repairs- over time I've spent five times the money on fuel that I spent on the car (my sad old Chevy Lumina is old enough to vote, has 309,000 miles... I just rebuilt the engine back in the spring). So I was thinking the other day that it'd be nice to have a small diesel to cut down on fuel costs. But those are hard to come by in the U.S., and I don't want a Volkswagen. I've worked on enough Mercedes heavy truck engines to develop an opinion on German engineering... and I won't be buying any of that.
This isn't *really* about saving money though. That would be a nice side effect. But really I just like to tinker and build stuff.
I read up on different possibilities for an engine swap. Small diesels are hard to come by here in the U.S. as you all know... and especially small diesels that have the features I want. I want direct injection- I hate waiting for glow plugs, plus I want to be able to roll start the thing even if the battery is stone cold dead (not saying that's a feature one really needs... it's just a feature I want). I want an inline pump- something sturdy enough that it won't blow chunks if I do something stupid like run (well filtered) used motor oil through it sometime. Needs to be cheap. Doesn't need a whole lot of power, but it has to be able to maintain 80mph on level, going into a hard wind. In my experience that means about 90hp minimum in a small to medium sized car. 100hp is definitely enough- I had an old Buick V6 many years ago with a whopping 105 horsepower, and it did just fine at 80mph.
What I've settled on is a Yanmar 4TNE86 out of a Thermoking reefer unit (aka TK486). Matter of fact I got the idea from this site- that guy who swapped one of these engines into a 1999 Ford Ranger (Rangemar). Granted, he blew that engine via excessive propane and swapped over to a Kubota... but I still think it's a good idea. I've read up on these engines- there are even complete service manuals available for download if you google around some- and I think it can pretty safely make 90hp if I add a turbo. Maybe 100 if I'm feeling brave... but this will be a butt-dyno situation so that'll only be a guess. They use these engines up to 3600 RPM in some applications, so that should be enough for easy shifting. There is a 4TNE106T version that makes 110hp (same basic engine but with a 106mm bore and a turbo), so I don't think 90hp is a huge stretch for this 86mm bore engine if I add a turbo. And these things are cheap on Ebay. I mean, cheap as running diesel engines go.
Having decided on an engine, I spent quite a bit of time thinking about what vehicle I want to put it in. A small front wheel drive would be a good choice in some ways... but I've checked out overdrive ratios, final drive ratios, and tire sizes- threw them into a spreadsheet for quite a few different vehicles- and there are very few available front wheel drive vehicles that will go 80mph at the RPM range where I want to run this engine. I want this engine to hum along at about 2000 RPM while at 80mph. I mean, what's the point of all this if I can't brag about the fuel mileage? Having looked up the final drive ratio of every small car I can think of (and that would likely be cheap on Craigslist)... I've concluded that the *only* thing out there that's geared high enough (and would probably hold together) is an 87-90 Dodge Omni and/or assorted clones. That's it... that's the only one. A few others are close- like early 90's Ford Escorts are close... but the engine will still be spinning faster than I want at 80mph unless I add monster truck tires. Those Omnis were dirt cheap and plentiful 20 years ago, but that's no longer the case. I could find one if I keep searching and if I'm willing to travel for it... but I had this nagging problem.
I can't start on another project car while I've already got one torn down in the garage.
I have a '72 Nova that's languished in my garage for a few years. The thing is all original and in pretty good condition... a quintessential grandma car. It literally was my grandma's car. And now that's it's mine... so of course it needs an L92 engine, T56 transmission, 3.73 limited slip rear, etc., etc., and all will be right with the world. That was the plan anyhow. But life happens. Changed jobs, finances weren't always great. I was lazy and occasionally drunk. Tore the car down, sold the engine and trans... and I just haven't made a whole lot of progress on it for a few years. I did get a great deal on a Viper T56 transmission out of a 2006 SRT-10 truck. It's a basket-case, but I've put transmissions together before. Problem is what while a fast car would be fun- the idea just wasn't motivating me, and I haven't felt like dropping $4K on an L92. I need motivation to get this thing back together.
The idea didn't occur to me at first. But while sitting at work, watching the clock the other day I thought... ****it- I'm gonna put that Yanmar in the Nova.
And really it's not a bad car for this project. Not ideal, but not bad. The thing only weighs about 3000 pounds- less than a modern Honda Civic. I've already got a double-overdrive transmission and 3.73 rear axle. Granted they'll hold up to easily five times the horsepower that this little Yanmar could possibly make- but I already have the parts. And at 80mph, even with stock tires the engine RPM will be *under* 2000. I don't know if I'll leave it this way permanently or if this will just be a proof-of-concept (and motivation to put the car back together). But the Nova will clatter to life in an even *slower* incarnation than its original anemic 307/automatic.
The engine is sitting in my garage. Updates will be trickling in.
11-29-2018, 08:25 PM
---
The engine is pretty rusty. Looks like the sort of Canada-rust you would expect, plus it looks to have been sitting in the rain for a couple years. They shipped it with oil still in it
I need to check it out before I put too much work and money into this. The primer pump was seized, broke off when I tried to use it. So I started it on ether and cracked a couple lines. Started pretty easy. No miss or smoke. Oil pressure looks ok:
I was a little concerned though that the crank turns really easily. Starts and runs ok, but didn't feel like it had any compression. So I pulled the rusty-*** nozzles out, made a homemade compression test adapter, and did a compression test:
It's some pretty serious rust. But they need to come out while the engine is on a stand anyway- much easier that way. I'll re-seal them and gob antiseize all over them, they'll come out easy next time.
Here's the homemade compression adapter. I chucked the hose barb on the end in the drill press and filed a cone on it to seal against the shoulder in the injector bore:
Internal volume in the tool is way too much to get accurate results for absolute pressure, but I can compare percentages between cylinders. First time I tried it the gauge red ZERO. No compression at all. I pulled the valve cover and checked the valves- intake valves on cylinders 1, 3, and 4 were tight. No gap at all. I did a quick valve adjustment and checked compression again- now all cylinders have pressure and difference between lowest and highest is 4%
I'll pull the oil pan and make sure the cylinders look ok from the bottom, remove and inspect a couple of bearings... but I think this engine is good.
12-16-2018, 01:45 AM
---
I went ahead and removed two rod caps. Bearings look nearly new. Checked them with plasti-gauge. Both were at .002" clearance. I reinstalled the rod caps. This engine needs some gaskets, cleanup, valve adjustment, and paint. Otherwise this is a good engine.
Got the flywheel back from the machine shop. I did some research and found that a clutch and pressure plate for a 96-ish S10 with the 4 cylinder will work for what I'm doing here. The clutch and pressure plate can be made to fit the flywheel- and strangely enough the clutch fits right on to the Viper T-56 splines. They use the same 1-1/8" diameter shaft, 26 splines. Now this flywheel isn't exactly ideal- there are holes where the drive pins for some kind of Thermo King coupler were installed. So now I have a 'cross drilled' friction surface on the flywheel. Not what I'd prefer, but it'll work. Ricers do it and it seems to work ok for them. For the friction surface I had them cut the flywheel down until it was flat, and drill six holes evenly spaced on a 10.551" base circle. Then figured out the pilot bearing depth from there.
For the pilot bearing, I had the machine shop cut the center bore to a usable size- in this case 1.375. Then I used a drill bushing to bring that down to 1", and installed an oilite bushing. There are a lot of different ways this could be done. I went with the drill bushing because they're cheap and precise, and I could use it to space the pilot bearing however I want. I don't really care for the roller type bearings that ride directly on the shaft- seen those fail too many times and take out the shaft. Plus I think a bushing will be more tolerant of misalignment... which is good since I'm cobbling together an engine and transmission that were never meant to join.
Before:
After
---
Last edited by Mechanimal; 12-16-2018 at

01:48 AM

.
12-16-2018, 02:09 AM
---
I've decided to go with the Yanmar's flywheel housing an build and adapter from there. There are other ways this could be done, but this looks to be the simplest approach. I test fitted the engine just to see what the oil pan and flywheel housing look like... this oil pan has got to go. I pretty well knew that... just wanted to see it. Also there are two large engine mount bosses toward the top of the flywheel housing. Those have got to go if I'm going to set this engine reasonably far back.
First I tried a sawzall. This thing isn't your typical cast iron... it destroyed the blade in seconds. I'd never tried a torch on cast iron before... so gave that a try. And learned that an oxy-acetylene torch is pretty well useless for cutting cast. So I had to go with an old school dirty trick... mounted an abrasive wheel in an old skil saw. Made short work of those chunks of cast iron:
Also started on the oil pan. Just the rail is done for now. I'll weld up the rest once I get the engine mounted in place so I can take measurements and tack things in place:
---
Last edited by Mechanimal; 12-16-2018 at

02:11 AM

.
12-16-2018, 02:36 AM
---
Now that the flywheel and clutch have been set up, I can start mocking up my DIY bellhousing. A spacing of exactly 4" from the flywheel housing to the transmission front plate will put the input shaft at the right depth. Built a plate for the flywheel housing and a plate for the transmission from 1/4" steel. I have some 3.5 x 1/4 flatbar, so that will add up to 4". The transmission is apart anyway, so I have the front plate. The plan is that I'll use a dial indicator or the like to align the front plate, then get everything welded together.
Years ago I worked at a Cummins shop. Not quite the dark ages, but electronic engines were a pretty new thing at the time- we still worked on a lot of the old 855's and the like. When you replace the flywheel housing on those, you have to align it with a dial indicator and then ream holes for the dowel pins. The spec is that it needs to be concentric within .010". That's how I did it anyway... but I know for a fact that a lot of people would just bolt the new housing on and go. Granted we're talking about class 8 trucks here... but the point is that you can get away with more misalignment than you might think. If I can get this within .010", IMO it'll be fine.
12-29-2018, 10:23 PM
---
Ok, my 'bellhousing' is pretty well done. Just need to finish up a few minor details and paint it. Here's how I did it:
Welded some 3.5" flat bar onto the engine side plate, allowing for clearance for the clutch, trans mounting bolts, etc. Then ground and filed everything nice and flat:
I made a tool to check alignment. Basically just a bar that bolts to the crankshaft, and has a threaded hole on the end:
Bolted the transmission front plate onto its 1/4" steel plate, and held the assembly in place temporarily with some all-thread. Just tight enough to that everything is held together, but you can still tap things around with a hammer to get the right location:
Didn't want to take any chances on gouging the soft aluminum that the input shaft bearing race rides in, so I made a pointer out of some plexiglass I had laying around. I used some thin feeler gauges to check the distance between the pointer and the bore. Turned the crank and checked in four locations, tapped the transmission plate until it was centered within about .002". Also used a dial indicator to check the flatness of the steel plate. Had to file a little more until that was within .005":
I tack welded everything in place. Drilled the engine side plate and the engine flywheel housing and drove in a 1/4" roll pin on each side to keep this alignment. Then removed it and welded everything solid, and trimmed all the excess off both plates. Things tend to move around when you weld, so the 'bellhousing' got some love from a BFH until everything checked pretty flat with a straight edge.
Next I mounted the throwout bearing/slave cylinder. On your typical T56 trans installation the slave cylinder will ride on the front transmission plate, which also centers it. In this case I'm not using the Dodge Viper throwout bearing, so the hydraulic line and bleeder are at different angles (using a slave cylinder for an S10). Also the Viper T56 has a very long input shaft... but the S10 clutch isn't very deep. So the slave cylinder needs to be roughly 1.5" further forward than it would be in a Viper. When fully compressed, there should be approx. 1/8" gap between the throwout bearing and the pressure plate fingers.
So rather than using the transmission front plate, I mounted it in the bellhousing. Welded in some 3/4" thick flat bar which will make that gap just a hair over 1/8". This chunk of steel is massive overkill for what I'm doing... but it's a quick and dirty spacer. The slave cylinder won't be aligned via a machined surface on the transmission like an OEM installation... this will just be aligned via the bolts. I taped up the input shaft with electric tape, large enough to center the slave cylinder. Installed the bellhousing with the input shaft and slave cylinder Then marked the location, drilled and tapped the holes. Also I've cut a window into the side of the bellhousing to allow clearance for the bleeder and line. I'll make a cover when I get around to it:
At this point, I re-installed the bellhousing and front transmission plate, and re-checked flatness and concentricity. After welding, concentricity is within about .004". Flatness is still within about .005". Not perfect, but this will work. It's well within the Cummins spec of .010"
I made it a point to keep my homemade bellhousing from sticking out past either the engine flywheel housing or the transmission front plate. Trans tunnel clearance will likely be tight, so I'm not making it any worse than it has to be.
This was a lot of welding, cutting, bolting/unbolting, measuring, filing, grinding, beating, measuring again, drilling, tapping... I think I'll order parts to put this transmission together and then work on something easier for a while.
This is essentially a tractor engine... I think I'm going to paint it red. I don't care enough to hunt down Yanmar Red paint, so it's probably going to be Rustoleum red.
---
Last edited by Mechanimal; 12-29-2018 at

10:31 PM

.
02-02-2019, 02:31 PM
2004-2006 Ram SRT-10 T56 assembly
---
Took a break for a while, but I'm back at it.
The transmission I'm using here is complete and utter overkill. But I already have it. It has nearly ideal gear ratios for what I want to do here. And part of the reasoning behind this project is that I'm interested in it... so that provides motivation to put this transmission back together.
I bought this transmission off Craigslist for $600 as a box of parts. Of course anything you're told by craigslist people or the like should be taken with a grain of salt, but for what it's worth, here's his story:
He's fixing up a Dodge Challenger. I can't say what year it was exactly... 2008/9 would be my guess. It was in his garage. He's putting some bigger/better mopar engine in it. I don't know mopars well enough to say what it was... could've been a 6.1 Hemi. I didn't ask. This transmission is from a 2005 Ram SRT-10, and he had intended to put it in said challenger. But decided to go with an auto instead because it was too much trouble. Said the shifter was in the wrong location among other things (needed to be further back). Said he bought it from a friend at a dodge dealer. The story is that it was jumping out of gear- he didn't know which gear. Said the only thing he found wrong with it was some worn/broken shift pads... which I could see that it did have. So I looked it over, didn't see anything else particularly wrong. Everything seemed to be there as far as I could tell. So I took a chance and gave him $600 for it... which is a great price for this thing assuming it pans out.
That was a few years back. Now that I'm putting this thing back together, inspecting closely and doing some research- I think he was entirely honest. First of all, the Dodge Challengers never used a T56. They used a TR6060 which not only had a shifter location further to the rear- but they also used some short little cables and a remote shifter to put it even further back. So shifter location definitely would've been a problem. As for the completeness and condition of the parts- I've yet to find anything missing. It's not entirely back together, but I've made good progress. The only real problem I've found with any hard parts is the reverse gear- it's engagement teeth are a bit chewed up: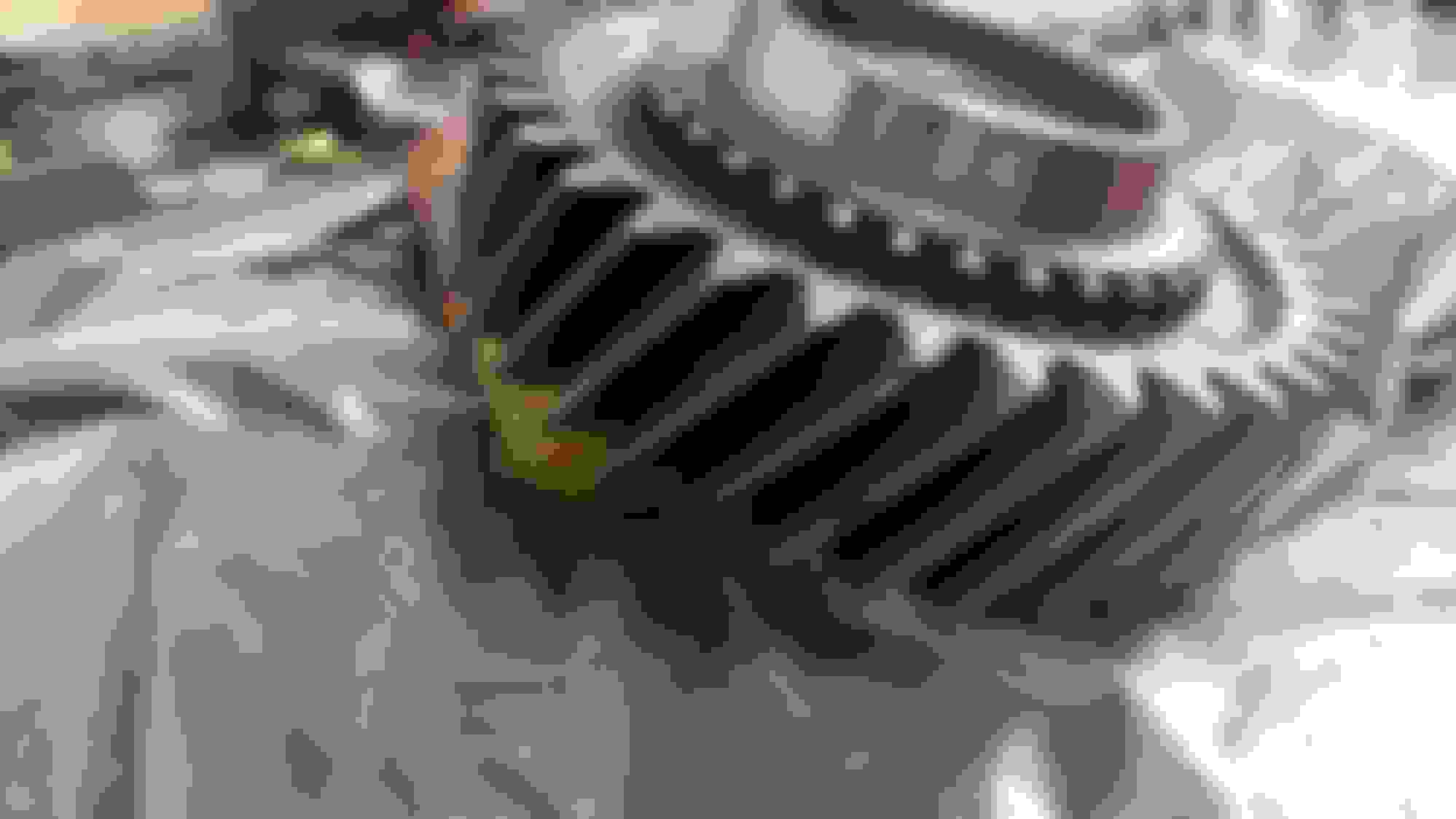 If this was an old truck or something, I'd make it work. But I plan to do a fair amount of driving with this car/transmission, whatever the final configuration ends up being. So I replaced it. Same part number as the relatively common Camaro/Mustang T56 transmissions. Not sure that that's true of any other gear in this transmission since it has a larger main shaft and a one piece countershaft. But this one was only about $100. Also there's a little wear on the 6th gear engagement teeth and synchro slider, but not really anything to worry about. I went ahead and ordered a new slider for 5th/6th. Also the same as the camaro version.
Other than that, all this thing has needed so far are seals, shims, shift rail bushings, etc. Minor little wear parts. I'm taking my time though, inspecting, researching, and fitting up one part at a time since I've never had one of these things apart. And this is a particularly oddball version with the one piece countershaft- I've yet to find a parts manual, a service manual, a youtube video, a forum post, or ANYTHING that shows in detail how you assemble the rear section of this transmission. It's similar to both the old style T56 with the two piece countershaft, and also similar to the TR6060 which also has a (different) one piece contershaft. It's a baby-step in between the two. But I don't think it'll be too difficult.
One of the main reasons for this thread is to help out the next guy who wants to do a strange engine swap like this. Because other forum posts have helped me out a lot, so I have an idea of what will be useful. But I'm not going to go into a lot of detail on the front section of this transmission. Because though some parts are different, assembly is almost exactly the same as the T56 transmissions used in the Camaro/Firebird/CTS/SSR/Corvette, GTO, Mustang, and a few others. There's no shortage of information out there for the 4-speed section of a T56.
But since I've yet to find detailed, step-by-step instructions for the 5th/6th/reverse section of this transmission anywhere, I'll post that in detail. Maybe somebody will google that up along the way based on the title of this post.
Also I've learned that some (or maybe all) T56 transmissions have a built-in problem where the reverse synchro hub doesn't fully engage. There are some youtube videos and forum posts out there showing it. That could account for the nasty condition of this transmission's reverse gear and popping out of reverse. So I'll take a look at that and decide what I want to do with it. The fix that some people are doing is to grind the reverse shift fork and add a spacer of approx. .110-.120 inch so that the reverse hub will fully engage. That might be the way to go, but I'll have to take a look. I have to wonder if that spacer will still allow the shift fork to center. You don't want to keep pressure on this shift pads for obvious reasons.
Anyway, here's where I'm at so far:
Nearly everybody recommends Ultra Black, Ultra Gray, or Right Stuff RTV. Nothing wrong with those, but I like anaerobic sealant. I spent quite a few years as a heavy equipment mechanic before going into engineering, and I've put together a ton of gearboxes with Locktite 515 and the like. This stuff 'hardens' to a plastic about as tough as leather. It's good stuff. Locktite 504 is also good.