Vehical Audio Lesson II (Passive Crossovers)
09-15-2007, 02:45 AM
Join Date: Mar 2007
Location: Perry Co. Ohio
Posts: 29,849
Vehical Audio Lesson II (Passive Crossovers)
---
An Example System ,
Tweeters - Highs
Mids Highs - Lower FQ Than Tweeters
Mids Lows - Often a Small Woofer Higher than Lows
Woofers - Lows
tweeters Play The Highest Pitched Sounds of The Music
Mids Highs Play the Deep Tones of the Highs
Mid Lows are picking up the gap between your Woofers and mid highs
Woofers No Lyrics should come out of Woofers its all LOWS Sometimes you will see them moving and hear no sound If you hear lyrics in your sub woofers your system is set up wrong
Now How to ensure that your speakers are getting the right range of FQ's ....
Theres 2 Types of Passive Crossovers
LowPass = Choke (inductor)
HighPass = Capacitor
For Example Lets say a Speakers Specs Are 40 - 80 Hz You dont want to Send any hz (tone) Below 40 hz or above 80 hz to the speaker or it will sound like crap ,
So what you do is Use Capacitors and chokes to cancel out all the hz but what the speaker is designed for
A 5khz Capacitor will allow frequencies HIGHER than 5khz Pass any thing lower than that will be canceled out
You Dont want to send Lows/Bass to your Tweeters !
A 100hz choke will allow frequencies LOWER than 100hz to pass and cancel out higher frequencies
You Dont want to send Highs/Lyrics to your Woofers !
When using both a Lowpass and a highpass cross over this is called a BANDPASS FILTER Mostly Used for MIDS
One of the Easiest And cheapest Ways of Completing a correctly set up system ,,, Since High Mids and Tweeters are the hardest to tune with crossovers Buy a component system This will already have all the crossovers built in
Its set up to allow only the highs to the little speakers and where the lows start to be cancelled out of the little speakers is where it just starts into the Larger one YOU WOULD BE AMAZED HOW MUCH YOUR MISSING IN YOUR MUSIC
Heres an example of a 6" Woofer this is your mid lows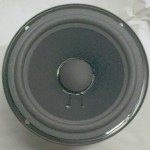 Here is a 6" Tweeter
There both 6" but the fq range is totally different
You will have a Nice Tweeter for the Mid Highs with a component system But for mid lows your going to need a small woofer Not a tweeter
Look at what your buying and design your system to have no blank areas and minimal over laps in FQ ranges
If you read lesson I you will see SPEAKERS are the most important aspect of your stereo system Do it right or you wont be happy
Your Subs All Lows No Highs and No Lyrics
Note the following guide is based on an 8 Speaker system if you have a 6 speaker system then you just use speakers with wider fq ranges and different cross overs
---
Last edited by DB Admin; 09-15-2007 at

02:48 AM

.
The following 3 users liked this post by DB Admin:
09-16-2007, 12:41 PM
Join Date: Mar 2007
Location: Gloucester, VA
Posts: 11,159
---
wish I had pictures of the house speakers I had in my old S-10
03-19-2012, 06:04 PM
Join Date: Mar 2012
Posts: 6
Likes: 0
Liked 0 Times in 0 Posts
---
Does this apply in every model?